Latest Information
12/31/07 - .223AI F-Open 600 Yard Rifle
The 223AI has now morphed (again!) from a stock Savage 12FV in .223 Remington into a F-Class Open starter rifle for my wife.
The Bell and Carlson aftermarket stock was changed out for a MBR style synthetic model from Sharp Shooters Supply two years ago.
At the same time, I had also changed out the factory Accutrigger for a SSS unit, as the factory trigger had gotten unreliable, and would fail to cock, even when adjusted to over 1.5 pounds. Apparently, this is not uncommon for the stock Savage Accutriggers after a lot of use. The SSS trigger is set at 1 pound, and breaks cleanly, with no tendency to AD.
The factory bolt handle was changed out to a stock Savage large handle.
The Pac-Nor pre-fit barrel installed in 2003 had finally given up the ghost after the 2006 prairie dog hunt in South Dakota. There had been over 4000 rounds fired through the barrel before accuracy started to drop noticeably. So, in addition to the new stock and trigger, the rifle was fitted with a new Brux cut-rifled barrel. The barrel contour was a bit larger than the stock factory Savage, being 0.930" vs. 0.750 at the muzzle. This barrel was exceptionally straight in the bore, and the view through the borescope looked excellent. I must also note that dealing with Ken at Brux was extremely pleasant, and the delivery time was a stunning two weeks after he received payment. I'll be buying more barrels from them, you can be assured of that.
The reamer was from Dave Kiff at PTG. (Drawings HERE). It was ground to provide the same throat dimension as the re-throated Pac-Nor, which was optimized for the 75 grain Hornady AMax.
The barrel channel on the SSS stock was enlarged on the mill with a carbide 1.125" router bit, and skim bedded with black dyed Marine-Tex epoxy. A length of 1.125" outside diameter 4140 thin wall tubing was used as a form for this skim bedding. (An unused down-tube from a Reynolds tube set left over from my street bike frame building days).
A Farrell 20 MOA Picatinny style base was bedded to the action with Devcon 10110, and then pinned to the receiver with two 0.125" dowel pins to ensure that it never shifts.
Current configuration for this rifle:
| | |
| --- | --- |
| Caliber | .223 Remington Ackley Improved |
| Barrel | Brux Stainless, 30" finished length, 4 groove, 1 : 8" twist, 1.050" for 2", then straight taper to 0.930" at the muzzle |
| Reamer | Dave Kiff of Pacific Tool and Gauge – .223AI, 0.250 neck, 0.105 freebore, optimized for 75 AMax |
| Receiver | Savage 12FV, converted to single shot with shop made follower |
| Trigger | Sharp Shooters Supply Competition model |
| Stock | Sharp Shooters Supply MBR style synthetic |
| Scope rail | Farrell 20MOA Picatinny style, model SAV-RTS-1-20 |
| Scope | Burris Black Diamond 8-32X50, 30mm tube |
| Rings | Leupold QRW high, 30MM |
| Weight | 19.5 pounds |
Break-in at the range today went exceptionally well. There was zero, and I mean zero, copper fouling, even on the first few shots. The shoot one, clean one routine was not necessary. This is the fastest break-in I have ever experienced. A solid testimony to the quality of the Brux barrel.
The ammo used was the standard accuracy load for the old Pac-Nor barrel: 25.5 grain VVN140, 75 AMax, WSR primer, 223AI fireformed cases from LC brass. Five shot groups were all under 0.5" at 100 yards. A total of thirty rounds were fired.
Next steps are to do some load development. The goal is to repeat the 5 shot grouping in the 3's of the original Pac-Nor barrel, and achieve a low velocity SD so that the load will be a good performer at 300 to 600 yard F-Class competitions.
Archival Information
Original Postings
August 2003
.223 Remington Ackley Improved Re-barreling Project
This fall I purchased a 27" stainless steel super-match grade barrel, 1:8 twist from Pac-Nor. My intent was to be able to shoot the heavy (75 and 80 grain) VLD bullets very accurately, at reasonable velocities. The standard .223 Remington cannot really drive the heavy bullets more than about 2700 FPS without high pressures. I wanted a load that would drive a 75 grain AMAX or an 80 grain Berger VLD at about 2900-3000 FPS, at sub-MOA accuracies.
Chris and Penny at Pac-Nor really took good care of me, and did a great job with the barrel, which was chambered and pre-fit for the Savage action very nicely. It took only a Savage barrel nut wrench, a barrel vice (two chunks of 2X4 cross drilled with a 1" hole), two go/no go gauges, and about 10 minutes to remove the factory barrel and mount the Pac-Nor barrel.
Here are some pictures taken through my Hawkeye borescope with a digital camera. They really show off the exceptional quality of the bore and the throat on this barrel. I liked this barrel so much, I ordered another SSSM from Pac-Nor for fitting to my 220 Swift by a local smith.
This is a shot of the bore of the brand new Pac-Nor SSSM .223 Remington Ackley Improved. This picture was taken with a Kodak DC290 digital camera through a Hawkeye borescope:
<![if !vml]>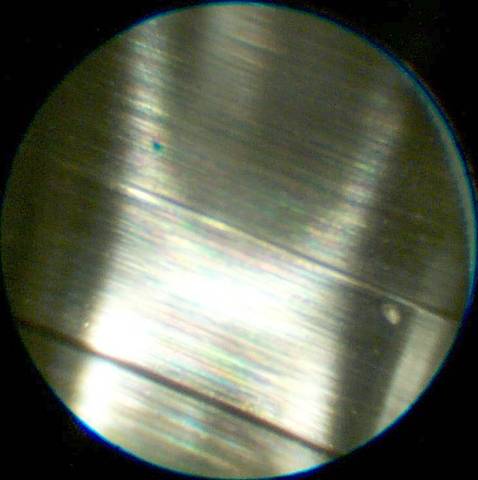 <![endif]>
This is the throat of the same barrel. Note the absence of any significant tooling marks. This barrel shoots very, very well:
<![if !vml]>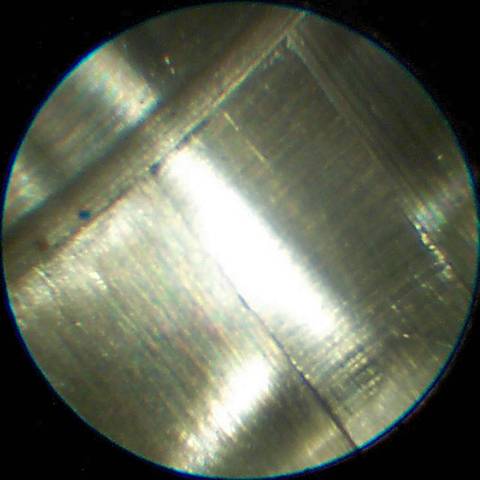 <![endif]>
This barrel lived up to my expectations. The performance with the VLDs was consistently one third MOA or less, with 0.6" 5 shot groups at 200 yards the norm. However, the throat length was a bit too short, and the VLDs were set into the case a bit too far, limiting the amount of powder volume that was available. I decided to send the barrel back to Pac-Nor and have them extend the throat out by about 0.100".
Here is a picture of the Savage with Pac-Nor barrel installed and the Weaver T36 scope:
UPDATE: 10/18/03
I just had the throat lengthened at Pac-Nor by about 0.100" in order to be able to seat the heavy 75 and 80 grain VLD bullets properly. The original throating from Pac-Nor was for the lighter bullets, and the VLDs were seating too far into the case, reducing the volume available for powder. I had to increase the powder charge (VVN140 and IMR4895) by 1.0 grain to get the barrel time and velocity back to the original accuracy load levels. The rifle shoots even better than before. Here is a typical 5 shot group from today's session, at 100 yards. I will post the 200 yard data as it becomes available.
Re-throated Pac-Nor SSSM 27" .223 Ackley Improved, 1:8 twist, COL 2.525"
75 grain Hornady Amax, 25.5 grains VVN140, CCI BR4 primer, Lake City brass, fire formed
5 shot group @ 100 yards, 0.28"
Average 2948 FPS, extreme spread 60 FPS, standard deviation 25 FPS
<![if !vml]>
<![endif]>
UPDATE: 10/27/03
The performance at 200 yards with the Hornady AMax was very, very good, and I doubt that it can be much better. The rifle clearly is limited only by the performance of the loose nut squeezing the trigger. With an extreme spread of only 51 FPS (30 shot aggregate), the expected vertical error is less than 3" at 500 yards. This should make for a very nice prairie dog rifle out to 500+ yards.
Re-throated Pac-Nor SSSM 27" .223 Ackley Improved, 1:8 twist, COL 2.525"
75 grain Hornady Amax, 25.5 grains VVN140, CCI BR4 primer, Lake City brass, fire formed
5 shot group @ 200 yards, 0.476"
Average 2938 FPS, extreme spread 51 FPS, standard deviation 12 FPS
<![if !vml]>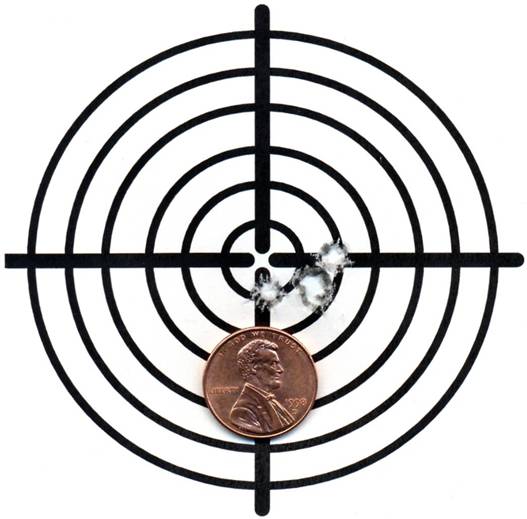 <![endif]>
Load and performance information on my .223 Remington Ackley Improved project rifle – Includes some optimum barrel time estimates and a list of the best shooting loads to date. Note that there are two pages of data, one for the barrel as originally received from Pac-Nor, and one after the throat was extended about 0.100"